Wheels Of Fire --
A Hot Wheels Club of Arizona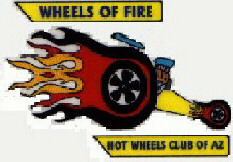 The Wheels Of Fire racer.
One of two logos that we use.
To view our other logo, see the "About Us" page.
---
If you're a Hot Wheels enthusiast or collector,
then this is the site for you!
Click on above graphic to vote for this site.
---
NEWS posted May 11, 2001.
Updated May 17, 18, 23, June 3, 7, 9, 14, & 22
Click on above link or on the "Whats New" button at left.

Remember to visit the other pages since they are
changed and/or updated without notice.
---

Just in case you're not familiar with Hot Wheels ®, here's a little background.

Hot Wheels are small metal vehicles that were introduced to the toy world back in 1968 by Mattel. Every year since then, approximately 30 new models have been released. This means that there are over 1,000 vehicles (not including variations) available. In fact, Hot Wheels celebrated it's 1 billionth-made vehicle in 1990 and its 2 billionth in 1998.

If you're 'into' miniature vehicles but don't get every single one made by a manufacturer, you'll still find a wide variety of Hot Wheels.
This variety includes classic cars, lowriders, hi-boys, fat fendereds, chop jobs, regular street models, concepts, experimentals, motorcycles, futuristics, trucks (4x4s, off-roads, baja, SUVs, pick-ups, 'suburbans,' Jeeps, etc.), semi rigs, race cars (NASCAR, sprint, CART, street, modified, etc.), quads & moto-cross-styles, undersea, outer space, movie & series based, foreign & import, planes, helicopters, boats, finger-boards, and holiday related.
For example, one of our Club members collects just HW Corvettes -- all models and variations. According to him, there are 395 (as of February 2001) in HW alone -- and he has 291 of them!
Even if you're 'into' limited or exclusives, instead of "off-the-peg generics," you'll find them ... and in various scale sizes (1

/64, 1/43, 1/24, 1/18, 1/10).
If you're 'into' accessories, you'll find almost everything from party favors & candy to home & car decorating items and other 'toys.'
In short, if you're 'into' it, Hot Wheels probably has it!
---
Be sure to check all the pages when you visit since some of them are not 'time sensitive' and may be revised, updated, &/or changed without notice.
We hope you have fun and get the information you're looking for as you explore this site.
---
Thanks for dropping by!


Thank you for coming by to see what Wheels Of Fire is all about.
Also, don't forget to visit our webpage to find out more about our Club.
After you visit here and our webpage, please come back (there are a couple of links that will bring you back here automatically) and vote for us by clicking on the 'Top 100' graphic at the top of this page. Thank you.